Tour details
Our evening Segway tour of Rome is a unique experience of the city. You can take a break from the daytime chaos and discover the romantic character of Rome by night on a Segway.
This Rome evening Segway tour starts in the heart of the Jewish Quarter, at Piazza Mattei, facing the lovely Turtle Fountain. First comes the most lively squares of the city center: Campo de' Fiori, with a vibrant ambience and several bars and restaurants. Then we head for the river to arrive at Castel Sant'Angelo, the former Mausoleum of Hadrian.
From the Angels' bridge you'll take an amazing night view of St. Peter's Basilica (The Vatican), beautifully lit up. The next stop of this night Segway tour of Rome, is the Piazza Navona with the stunning Bernini's Fountain of the Four Rivers. From there we glide over to the Pantheon – the majestic ancient temple devoted to all the gods, passing by the Temple of Hadrian and we finally reach the Trevi Fountain.
Next, our Rome evening Segway tour takes you to Piazza Venezia, where you will see the imposing Vittoriano in its greatness. Thereafter we zip through the ancient Capitoline Hill, to enjoy our grand finale: a fantastic view of the ancient city and the Roman Forum from above.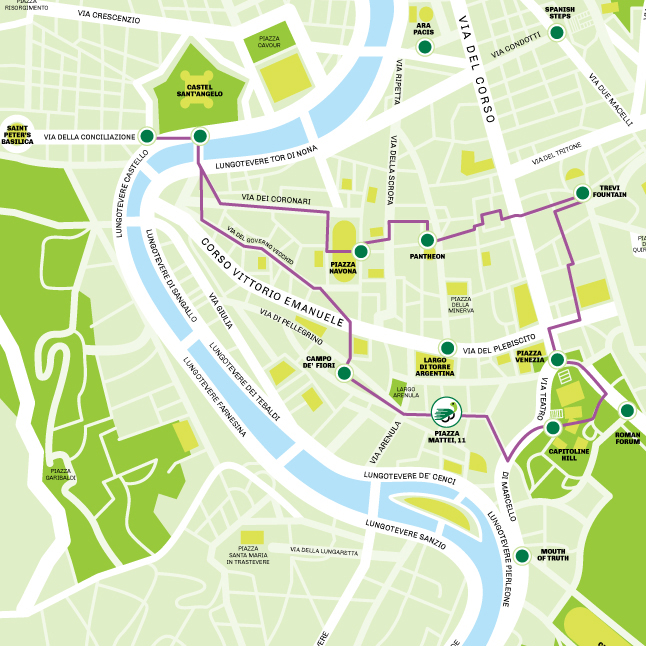 What's Included
 Experienced tour leader
 Short training
 Helmet
 Rain poncho
 Coffee and bottled water
 Fun
What's Not Included
Entrance fees. Food & beverage. Anything not specified above.
Requirements
To ride a Segway you must be over 14 years of age, between 45 and 115kg (100 and 255 pounds). You must be able to climb and descend stairs without assistance. Pregnant women are not recommended to ride a Segway.
COVID-19 INFORMATION
All customers touchpoints are frequently cleaned.
Social distancing is maintained throughout the tour.
Wearing masks is not required for this activity, but they are provided if you need them.
For your safety, the guide will wear a mask.